We remember David DePaolo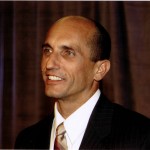 We were informed Monday, July 18, that David DePaolo, founder of WorkCompCentral.com and a former workers' compensation defense attorney, was killed over the previous weekend in a motorcycle-related accident.
Some of you had the opportunity to hear him speak at the Kennedy School. David was our 2015 Oregon Claims School Keynote Speaker.
David was a defense attorney for nearly 20 years, leaving that part of his life to become a much more impactful voice in the workers' compensation industry. He founded WorkCompCentral.com to tell the industry news, but blogged his own views separately on his blog, DePaolo's World.
Fellow industry blogger Bob Wilson wrote, "David felt strongly that the workers' compensation industry needs to highlight the good things we accomplish, and fight the persistent negative image cast upon us by external forces and bad players within the industry."
He was larger-than-life outside of the business world as an avid bicyclist and private pilot.
Another work comp blogger, Joe Paduda wrote Monday evening, "The takeaway for me is simple – at the end of life, you have only your reputation, the good you've done, the life you've led."
Our condolences go out to his family and colleagues.