Reinisch Wilson Weier PC is a 2018 Top Workplace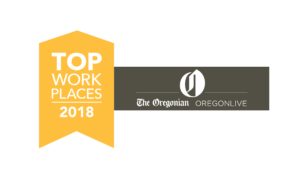 Reinisch Wilson Weier PC has been named a Top Workplace in 2018 by the Oregonian/Oregon Live. The Firm is one of 100 companies in Oregon and Southwest Washington to be recognized and was ranked 15th out of 45 small companies with less than 100 employees.
"Recognition as a Top Workplace by the Oregonian is a direct result of our people and our culture," said Christy Doornink, President and Managing Attorney for the Firm. "Our attorneys and staff are not only committed to serving our clients, but are also supportive of each other."
"Our people are our greatest asset and we are committed to developing an inspiring organization where we enjoy coming to work each day," said Christy. "This recognition honors everyone within the Firm."
The recognition is based on an employee survey, which was completed in March 2018. Ninety percent of the Firm's Portland employees completed the survey.
Staff members and attorneys recently provided testimonials about the Firm culture:
"I am really proud of the way that our Firm is open to flexible schedules and workloads to accommodate the family lives of our attorneys and staff. I have personally benefited from those policies; I feel that they have helped me balance being a mom with a demanding career."
"The culture at this firm is one of "family comes first." Of course, a profitable organization requires hard and entrepreneurial workers. But our employees are incentivized to work hard because they know our Firm will be flexible to their needs and supportive in times of crises."
"What a truly amazing employer I have. I can work remotely if need be and am trusted to do what I need to do to get my work done."
"A big thank you to all the employees who took the plunge to fill out this survey," said Christy. "We will continue our efforts to adapt to the needs of our employees to maintain a top workplace that serves our clients well."
The Top Workplaces lists are based solely on the results of an employee feedback survey administered by Energage (formerly WorkplaceDynamics, LLC), a leading research firm that specializes in organizational health and workplace improvement. Several aspects of workplace culture were measured, including Alignment, Execution and Connection, just to name a few.
"Top Workplaces is more than just recognition," said Doug Claffey, CEO of Energage. "Our research shows organizations that earn the award attract better talent, experience lower turnover, and are better equipped to deliver bottom-line results. Their leaders prioritize and carefully craft a healthy workplace culture that supports employee engagement."
Energage partners with more than 40 of the largest newspaper publishers, including The Boston Globe, The Dallas Morning News and The Washington Post, as well as The Oregonian.
Click here to read the Oregonian/OREGONLIVE article.