Seventh Annual Workers' Compensation Benchmarking Study released
For the seventh year, Rising Medical Solutions has produced its findings from its annual survey of claims professionals.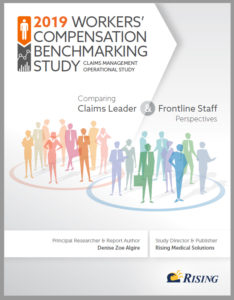 "For the first time ever, the 2019 Workers' Compensation Benchmarking Study surveyed frontline claims professionals (instead of claims executives) to ascertain alignment between industry leadership and staff who directly handle workers' compensation claims. As the industry's largest talent constituency, with the greatest influence on financial and injured worker outcomes, the 2019 Report not only provides recommendations to improve overall operational performance, it also provides strategies for how to best incentivize and retain this critical talent pool."
You may download the report, Comparing Claims Leader & Frontline Staff Perspectives by clicking here.
Rising Medical Solutions is a national medical-financial solutions firm that provides medical cost containment and medical care management services to the workers' compensation, auto, liability and group health markets.