The Firm is recognized as a 2021 Top Workplace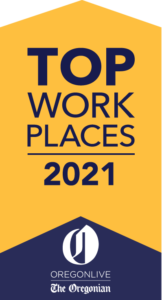 For the second time in four years, Reinisch Wilson Weier PC has been named a Top Workplace in 2021 by the Oregonian/Oregon Live. The Top Workplaces awards recognize organizations for their commitment to workplace excellence. The Firm is one of 119 companies in Oregon and Southwest Washington to be recognized; over 2,100 companies were invited to participate this year. The Firm was a Top Workplace in 2018.
"We are pretty excited," said Firm President Christy Doornink. "This award is a great testament to and reflection of our attorneys and staff's positive feelings about working here."
"What we have learned about our workplace is that our people enjoy the people they work with," said Christy. "We try to hire people who value one another and the diverse workplace that we represent. We try to show people that they are not only valued for their work product but also as a person."
"The collaborative nature of the firm (makes this a special place work)," said Christy. "Nearly everyone is assigned a mentor when they start. When individuals are doing well, the firm is doing well."
"People also enjoy the flexibility we provide. We've learned that if you can provide a flexible environment, people can deal with their life's needs as well as their job and be happy overall."
"We did offer some remote working before the pandemic, but it has become a requirement (during the pandemic) for quite some time, which will continue. We will be offering the new normal of a hybrid workplace."
"We are constantly trying to improve; we are not complacent just doing things the way they have been done the last 30 years. We continuously assess and are improving our processes. We encourage and expect continued learning; we offer a lot of mentoring and avenues for growth."
"We look for people who are detail oriented; a teamwork component is probably the most important factor. People who succeed here realize they have to communicate well, take ownership for their work and really value their team members." Current openings are posted on our Careers page – click here.
In February 2021, Reinisch Wilson Weier PC was also recognized for the third time in four years as the most diverse Portland, Oregon, metropolitan-area law firm among large law firms (20 or more attorneys) by the Portland Business Journal. The firm was ranked third most diverse in 2020 and most diverse in both 2019 and 2018. The firm reported that for all metro-area attorneys, 74 percent are women, 13 percent are a racial minority and 6 percent are LGBTQ. Among 1169 total metro-area attorneys in large law firms, 36 percent are women, 9 percent are racial minorities and 3 percent are LGBTQ. Click here to read more.
One person who helps make this a Top Workplace, the firm's Administrator of Human Resources Sarah Badawi was recognized in August 2021 by the Portland Business Journal for its HR Leadership Award. Click here to read more.
The Top Workplace recognition is based entirely on an employee survey managed by Energage, a technology company that partners with the Oregonian/OregonLive. Within the Portland office, over 80 percent of the attorneys and staff responded to the survey. The firm was ranked 23rd out of 55 small businesses, those with less than 99 local employees. Click here to read the Oregonian announcement. 
Energage partners with more than 50 of the largest US newspapers, including The Boston Globe, the Dallas Morning News, the Honolulu Star-Advertiser, The Washington Post, as well as The Oregonian. Energage has surveyed over 23 million employees in 70,000 organizations over the last 15 years.